Pirates Playground and Trampolines
Our Pirates and Trampolines Playground is loved by our youngest friends. It is a section of indoor games that features a pirate ship, carts, trampolines and two-level maze where your child will find tunnels, swings, colorful balls  and blocks cubicles, small climbing wall and more.
p2
Aventura Playground
It is the rope obstacle course for children from 6 to 15 years old. This race is the biggest challenge of all our attractions. Its circuit consists of several obstacles of ropes hung in the air. 
p3
Rocodromo Climbing Wall
In our Laguna SOV park we have numerous attractions that are not only fun, but also beneficial to our health.
One of these attractions is our climbing wall Rocodromo.
p4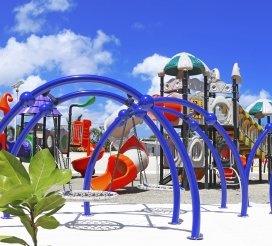 Outdoor playground
Playground area for kids of all ages where they can socialize having fun at different attractions, such as slides, labyrinths, swings, hemisphere and obstacles.
p5
Rancho Swimming Pools
In the conditions of the hot Dominican climate of the eternal summer, pools always remain the best idea to cool off, have fun and play.
p6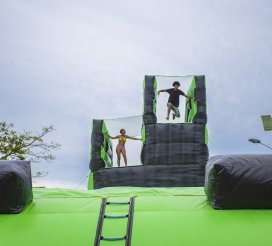 Jumping tower
Do you want to get a portion of adrenaline? Dare to jump from our gigantic inflatable jump tower! Only for the bravest and adventurous. 
p7
Red Square
Our giant over-the-top jumping Red square features three main attractions zones: slide, labyrinth, and inflatable climbing wall. 
p7-2
Labyrinth
Bring the rage as you battle your friend through our longest and wildest inflatable obstacle course. It is super cool featuring bright and colorful slides, climbing walls, arches, poles and other obstacles. Hold your breath and have fun!
p7-3
Rancho Trampolines
A trampoline for children is possibly one of the best ways to exercise. Come to have plenty of fun on our bouncy trampolines with a big foam pit!
p8
Kids Jacuzzis
Your kids will absolutely love our inflatable Jacuzzi. This is a great opportunity to pamper them by soothing bubble water jets.
p9
VIP AREA
Our VIP zone with private jacuzzi for a group of up to 12 people. In this area you will feel very comfortable without being disturbed by other visitants of the Laguna park. This is an ideal option for celebrating a family party or just spending a whole day in a big company of your best friends.
p10
Kids waterpark
The most charming aquatic area with shallow pool that features several wonderful colorful attractions, such as: two-level obstacle houses, slides, swings, water shooting machines and more.
p11
Fishing Lagoon
Our Fishing Lagoon is temporarily closed for renovation! Please check the NEWS section for the updates. We are sorry for any inconvenience that you may be experiencing.
p12
Restaurant Laguna
The extensive menu of the restaurant Laguna includes different snacks and starters, sandwiches and burgers, seafood and fish, meat, pizzas  and tasty desserts.
food
VIP Bar
Our VIP BAR is located on the round white island surrounded by Caribbean palms and pools with crystal clear water. It is a perfect place to savor the best refreshing drinks sitting in the shade on a sunny and sweltering heat day. 
beer-2
Rancho Bar and Cafeteria
The Rancho Cafeteria and Bar is located inside the Rancho area, right opposite the pools and inflatable attractions. Here we offer an extensive menu with the option of trying typical lunches at very affordable prices.
beer
Sosua Ocean Village
Laguna SOV is located within the prestigious residential community Sosua Ocean Village that offers properties for sale and rent long with a variety of amazing family amenities. You can book your stay in one of the apartments, studios or beautiful villas at Sosua Ocean Village.
We have options for all tastes and pockets. Please visit our websites www.sov.do and www.ovd.do or email us at rent@sov.do to reserve your holiday. We are looking forward to meeting you soon!
We realize how important it is to take care of our nature. That is the reason why we opted for solar energy as the main source of energy for all the project´s needs. In this sunny part of the world solar energy is the most efficient and stable way to provide electricity, so even if the electric companies have any problems, our green energy is always working.  Our guests and office staff use electric golf carts or our free solar bus to move around Sosua Ocean Village. Electric cars with solar panels on the roof are used for mainenance, security and construction employees´ needs.
These are some eco-friendly amenities we offer:
2400 solar panels
390 solar light posts
30 electric golf carts
12 solar cars for the community staff
4 solar electric security cars
2 solar buses
solar anti mosquito lamps